"Lockdown" didn't phase Mitchell's Miracles or our supporters from raising funds and awareness!!
"Lockdown" didn't phase Mitchell's Miracles or our supporters from raising funds to support families affected by Neuroblastoma.
Hello to all our wonderful supporters….we have missed you and hope this blog finds you all safe and well.
The Covid-19 pandemic has had a detrimental affect on our small charity, as most of our community fundraising events had to be cancelled. Even though we were restricted from approaching our local community we still managed to raise money with help from our super supporters, the backbone of our charity.
We would like to take this opportunity to say a massive thank you to all our fundraisers, challenge takers and donation givers. We could not have survived without you!
Sooooo….how has Mitchell's Miracles been tackling the hard task of fundraising during quarantine and social distancing?
Just before the corona virus outbreak we set up an Easter gift appeal for the children's cancer ward at Great Ormond Street Hospital. We had gifts sent in by various supporters, unfortunately this appeal had to be cancelled, but we still managed to  deliver some great gifts to the children by post.
A huge thank you to all who donated
We would also like to thank the following companies for their awesome cash donations…
"UK Energy Management"  donated an incredible £400.00. The Director Darren has been a sponsor for our charity golfing tournament every year, and because this year it could not go ahead, he stated he still wanted to make a donation.
"Ladbrokes Coral Trust" donated an unbelievable £4,000.00.
The "Douglas Arter Foundation" for their amazing donation of £500.00.
"The Linmardon Trust"
for their brilliant donation of £1,220.00.
"The Pantheon Charitable Trust"
for their excellent donation of £5,000.00.
And last, but certainly not least we received an anonymous donation of £10,000.00.
Much appreciation from the team at Mitchell's Miracles
ASDA Romford…
Much obliged "ASDA Romford" for donating some wonderful gifts for us to use for raffle and tombola prizes for future fundraising events.
Before the pandemic, we were selected for the
Green Token
community scheme, shoppers were given a green token to vote for one of three local community projects.
Last week we were given the amazing news that Mitchell's Miracles came 1st, and have been awarded a £1,000.00 donation.
Thank you to all ASDA shoppers who voted for Mitchell's Miracles, for making this possible
Now let us tell you about our fantastic fundraiser's and the challenges they set themselves…
During April 2020 we were excited to be apart of the 2.6 challenge. The 2.6 Challenge could have been any activity you like – from running or cycling 2.6 miles, to holding an online workout with 26 of your friends.
Our very own founder and CEO, Kristel Huth challenged herself to (weighted) hula-hooping for 26 mins exactly, with no stopping. Watch Kristel smash it out, no problem, on our Facebook page
here
…..bruises not included!!!
And our super supporter Fiona who cycled 26.2 miles.
Thank you all again for your amazing support
Each year the Capsicum Re Foundation looks to raise funds to donate to charities recommended by members of their team, we were lucky enough to be their chosen charity!
During July 2020 Capsicum Re took part in a speed project. They attempted to walk, run, swim or row the 20,000 km from Antarctica to the Arctic. North to South in 31 days.
Mitchell's Hot Chilli Steppers The Capsicum Re speed project team managed to raise a whopping £2,115.00 beating their set target of £750.00.
How absolutely amazing to be supported by the Capsicum Re, with this challenging challenge.
Thank you very much from the bottom of our hearts for choosing our charity to fund-raise for
One of Mitchell's Miracles super supporters Tina Green, asked if she could support our charity through her new group, "Tina's Treats". Tina made regular donations throughout the lock down by setting up bingo games and uploading our 50/50 lottery cards to her group.
So far, Tina has managed to raise £1,142.70 for Mitchell's Miracles charity. You can continue to support Tina's group by clicking the following link: "
Tina's Treats
"
We would like to say a very big thank you to everyone who has supported "Tina's Treats" on behalf of our charity.
Times are very challenging as we all know, so when someone like Tina steps in and demonstrates her passion to support our cause with her fundraising ideas, we are forever grateful.
We can not thank you enough Tina for all you do to raise money and scream and shout awareness of Neuroblastoma Childhood Cancer
Auctions and raffles…
We had a collection of signed paraphernalia, graciously given to us as a donation by one of our loyal supporters, for us to raffle and auction to raise funds…
A raffle was set up on our Facebook page for a signed Sir Geoff Hurst framed England t.shirt. Tickets were available for £5 each ticket numbered 1-50. A big thank you to Jason Mackay, who bought all 50 tickets outright raising £250.00.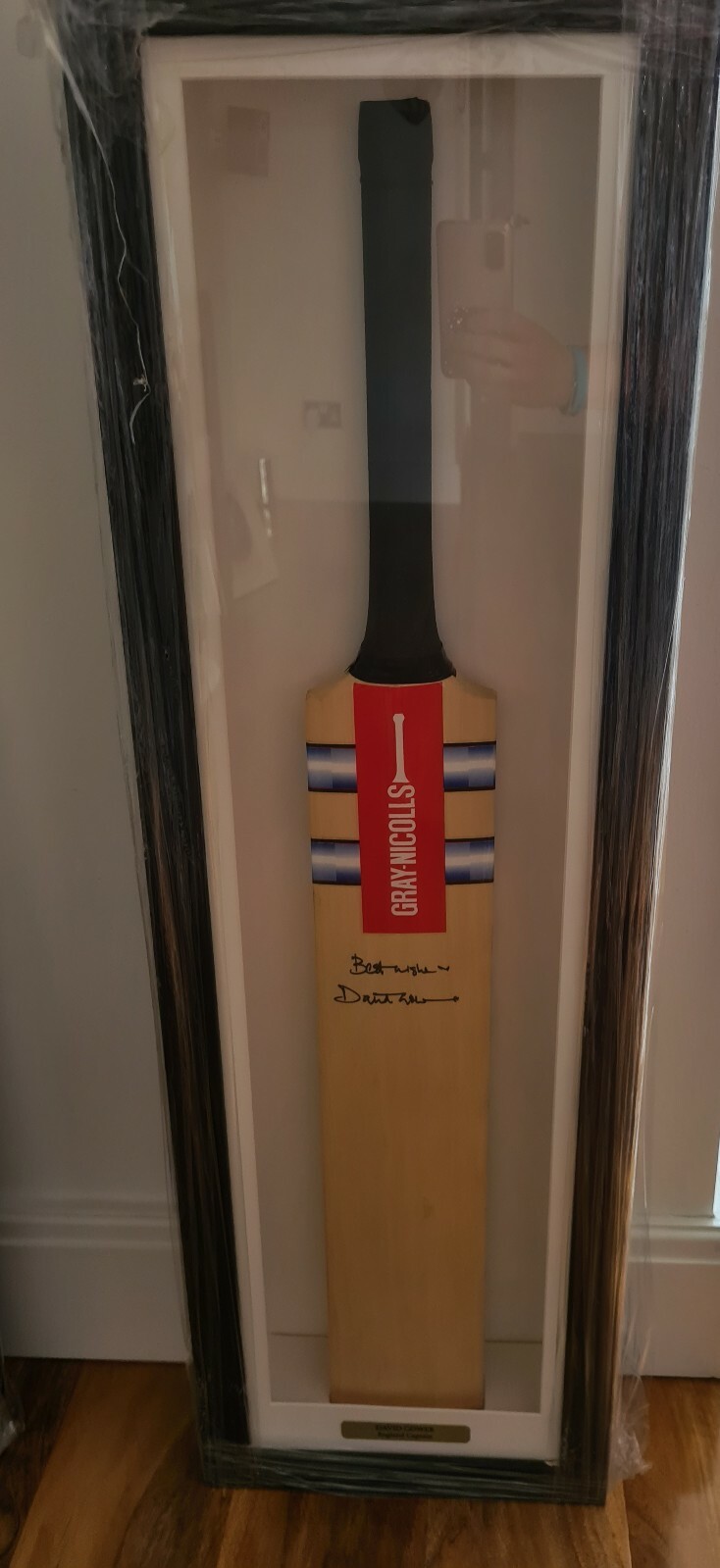 We also set up an Ebay Auction for a framed England cricket bat, signed by England Captain, David Gower. Which was also won by the lucky Jason Mackay, raising £30.
A second auction was created for a Lewis Moody Framed and signed rugby shirt. The winning bid went to Jamie Fallows, raising £150.00 for our organisation.
Thank you Jason and Jamie
Challenges to come…
How amazing is this…  On Sunday the 27th September we will be joining a handful of daredevils whilst they hit the sky standing on top of the wing of a plane.
The wing walking experience is totally FREE, providing you can raise a minimum target of £600.00. Each wing walk  takes approx. 90 minutes from start to finish and will incorporate steep-turns, dives and zoom climbs-transitioning from positive-G to weightlessness, leaving you exhilarated….
The first lift off will be starting at 9.30 after a brief  on health and safety and how it all works. Each wing walk will take 90 minutes from start to finish. So we expect to finish around 16:00pm.
Please feel free to spectate, invite your friends and family to cheer our dare devils on, and grab some great video footage and photos, following the Government guidelines on covid-19 at all times of course.
The following dare devils are certainly ticking off an adrenaline rush from their bucket lists:
Lee Carter
Colin Drew
Terry Huth
Claire Jones
If  you would like to take the challenge at our future date, the next one is Saturday 19th June 2021. please do not hesitate to contact us at
Mitchell's Miracles Charity
.
If you would like to join us in cheering on our brave supporters or experience the thrills with two feet on the floor, then these are the details:
Approx 10 am to 4pm
SKYMAX (AVIATION) LTD
Damyns Hall Aerodrome
Aveley Road
Upminster
Essex
RM14 2TN
"Going Gold" in September…
September is Childhood Cancer Awareness Month. It is a month when we honour children with cancer, children who have survived cancer, and the children who have unfortunately died from cancer. It is a month of "
Going Gold
," and working to ensure that childhood cancer is spotlighted.
At Mitchell's Miracles Charity, Childhood Cancer Awareness Month is about more than just awareness—it is about action. So please get involved… no matter who you are or what your contribution is, you can make a difference! Why don't you "Be Bold and
go gold
" for September by sporting one of our T-shirts whilst raising awareness and supporting families affected by Neuroblastoma childhood cancer.
Our "
Go Gold
for Childhood Cancer" T-shirt, is made with 100% premium cotton, in navy blue colour, with a shiny
gold
glitter ribbon. We have limited stock, so get your orders in quickly by visiting our
shop
They come in sizes S, M, L, & XL £12 Inc. p&p.
You could set your own challenge or make a team, from the casual walker to the active cyclist, anyone can participate in this month-long appeal by tracking miles and raising funds to support families affected by Neuroblastoma cancer. Visit our fundraising
page
for a multitude of challenges.
Why not turn your Facebook profile
gold
for the month of September all of the above helps us raise funds for our families and spreading awareness of Neuroblatoma Childhood Cancer!
Our 15 minutes of fame…
Our very own founder, Kristel Huth, was approached during the lock down by our local newspaper, "The Romford Recorder" and the UK National paper "The Evening Standard" to ask for her opinion on the affects the lock down has or may have had on the smaller charities, to read more
click here
Keep going…
We have still managed to support 41 families during the lock down with emotional and financial support, Covid 19 was not going to stand in our way and destroy the work we do, and it certainly did not stop our incredible supporters from raising donations and getting involved.
Keep any eye on our media platforms for information on how you can organise a fundraiser, enter our online raffles or take part in our 50/50 lottery game cards.
Latest family appeal is for Harris Morrison
Read more about Harris's journey….
The whole team at Mitchell's Miracles would like to say thank you from the bottom of our hearts, to all those who have taken part in Facebook Birthday fundraisers, given donations and aided in our child appeals.
We need you…we couldn't survive without you!
Mitchell's Miracles